Hongbing Wang, Ph.D.
Associate Professor, Department of Physiology
Neuroscience Program
Cell and Molecular Biology Program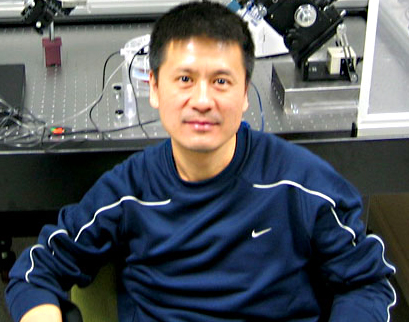 Biomedical Physical Sciences Building
567 Wilson Rd Rm 3179
Department of Physiology
Michigan State University
East Lansing, MI 48824
(517) 884-5119
wangho@msu.edu

Wang Lab Website

Research Interests
My lab investigates the cellular and molecular mechanisms underlying synaptic modification and certain aspects of adaptive behavior. We aim to understand the function of calcium-stimulated signal transduction pathways and G protein-coupled receptors. We use molecular and cellular, transgenic, electrophysiological, and behavioral approaches to identify the molecular components involved in memory formation, anxiety, depression, behavioral flexibility, and emotional stability. Some results from these efforts have led to the development of new animal models of Schizophrenia and Bipolar disorder. Our mechanistic studies have also suggested several potential therapeutic approaches to treat Fragile X Syndrome and possibly autism.
For more information, please visit our lab website (www.msu.edu/~wangho) and contact me.

Selected Publications
Zhang M, Storm DR, Wang H (2011) Bidirectional synaptic plasticity and spatial memory flexibility require Ca2+ stimulated adenylyl cyclases. J Neurosci. 13;31(28):10174-83.

Ming Zhang and Hongbing Wang (2013) Mice overexpressing type 1 adenylyl cyclase show enhanced spatial memory flexibility in the absence of intact synaptic long-term depression. Learn Mem. 20: 352-357.

Hongbing Wang and Ming Zhang. (2012) The role of Ca2+ stimulated adenylyl cyclases in bidirectional synaptic plasticity and brain function. Rev. Neurosci. 23(1):67-78.

Fei Zheng, Xianju Zhou, Changjong Moon, and Hongbing Wang (2012) Regulation of brain-derived neurotrophic factor expression in neurons. Int J Physiol Pathophysiol Pharmacol. 4 (4): 188-200.

Xianju Zhou, Daniel Hollern, Jiayu Liao, Eran Andrechek, and Hongbing Wang (2013) NMDA receptor-mediated excitotoxicity depends on the co-activation of synaptic and extrasynaptic receptors. Cell Death & Disease. 4:e560. doi: 10.1038/cddis.2013.82

Xianju Zhou, Qi Ding, Zhuoyou Chen, Huifang Yun, and Hongbing Wang (2013) Involvement of GluN2A and GluN2B in synaptic and extrasynaptic NMDA receptor function and neuronal excitotoxicity. J Biol Chem 288(33):24151-9